A few weeks ago, I shared about Shutterfly's Christmas cards and other gift ideas for the holiday season. After our fabulous vacation over Thanksgiving to Carolina Beach, I had plenty of pictures to use in our family Christmas cards.
I tried to give up a little control and took votes from the fam to decide which card we'd be using this year. Sadly, I was out-voted. But, in honor of democracy (and to keep the peace), I went with the top vote getter.
Abby and I had a great time trying out different fonts and colors. We are super excited about the finished product and I'm already thinking about other Shutterfly projects. I'm a little sad we don't need more Christmas cards, because it was a lot of fun making these.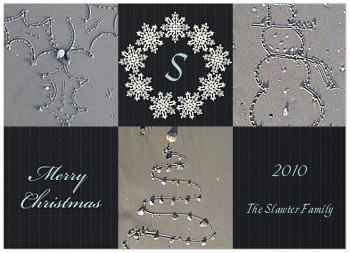 Shimmering Snowflake Christmas 5x7 folded card
Merry Christmas!